Is It legal To Bet On Horses?
Horse betting has been a staple throughout the gambling world for centuries. The bloody chariot races of Roman times might be long gone, but the "Sport of Kings" is still alive and well. With land-based races being rained out and closing, fans might be wondering where to find some legal online racebooks. In fact, despite there never having been a better time to be a race fan than right now, many enthusiasts wonder if it is legal to bet on horse racing, and if they will get in trouble for making horse wagers online. This article will help shed some light on the topic and guide readers to safe, legitimate places to wager today.
So, Are Horse Betting Sites Legal for USA Players?
Horseracing falls under the definition of pari-mutuel gambling. The federal laws that regulate gambling in the US exclude pari-mutuel betting from the definition of "illegal gambling." This is why there are horse tracks all over the US, but very few casinos or poker rooms. Pari-mutuel betting does away with the house-take (or Vigorish, or Vig), and all the bets are placed in a pool which is shared among the winning bets. This makes horse racing legal in most states.
Online wagering is a little different. The Unlawful Internet Gambling Enforcement Act (UIGEA) of 2006 criminalized the operation of online gambling establishments in the US. This just means that you won't find an online Racebook near your house. The great news is that there are numerous legal online Racebooks outside of the US, and they are legal to use. The laws of the lands they reside on govern these sites, and fall out of US Federal jurisdiction. You can freely use online racebooks in the U.S.
Federal Laws On Horse Betting
There are plenty of federal laws that govern gambling both in a live setting and on the internet. For the most part, they only target businesses that are facilitating bets for profit, not the average race fan. Standing to make a profit off other people's wagers is a serious offense in the United States and bettors should never attempt it. The act of placing a bet however, is perfectly acceptable under all of the federal regulations.
While these laws influence a number of different forms of gambling, they do not affect pari-mutuel wagering such as horseracing. Due to the nature of pari-mutuel betting, bettors have all of their money put into a pool where odds and numbers change based upon the amount of bettors and how much they wager. Bettors are betting against each other rather than against the house. This is a technique that has little instance of corruption by facilitators of the betting pool and is oftentimes hosted by federal or state entities. Also playing a factor is the fact that horseracing remains a prominent pillar in American culture that is unlikely to see legislation from lawmakers. Many say that even George Washington once bet the ponies.
One thing that is for certain, horseracing fans are able to peruse the internet for their betting pleasure. However, it is important to visit legal sites that are facilitating bets under the rule of law. These may be state or federal sanctioned sites or bettors may choose to visit some of the older online racebooks located outside of the United States. Horse betting sites that are located outside of U.S. jurisdiction have quite a few more betting options and features as opposed to the lowly funded state betting sites located in only a handful of areas.
State Horse Betting Laws
There are 50 states in our great union. Among them lie 50 different state constitutions with their own gambling laws. Each one will be unique and bettors must review their local laws to see what they may or may not do. It is a safe bet in most states however, that their laws will follow the template set in place by the federal government. Any state in the U.S. will strictly prohibit the business of gambling and facilitating bets for profit.
Legal Age To Bet On Horses
Through many different States' gambling laws come many different sets of legal gambling ages. The most common legal age is 18 years of age or older but a few states may have different limitations. There will also be certain facilities that set their own gambling ages at 21 due to private policies or the sales of alcohol. All of our recommended horse betting sites are available to all U.S. residents aged 18 years of age or older.
No matter which State you live in, it is safe to assume that many of our top recommended racebooks will only be a few clicks away. Keeping in mind the federal and local state laws will ensure a smooth lap around the track for all those of legal age. With no track left unnoticed by the best horse betting sites, the grandstands will always be available to you, day or night.
Bovada Racebook
- 50% Welcome Bonus up to $250!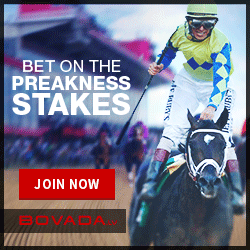 When searching for an online racebook, it is always a good idea to go with the one with the best reputation. Bovada is the world's leading racebook as evidenced by its massive number of shout outs by US media giants like CNBC and FOX Sports. Visit any gambling forum or sports talk site, and aficionados will always highly regard Bovada. This site has it all when it comes to great racing action. With over 80 thoroughbred and harness racetracks to choose from, you will always be able to play at the best tracks in the nation.
Bovada is one of the only online racebooks that offers huge bonuses for horse bettors. With the Welcome Bonus, the online cashier will match your initial deposit by 50% for up to $250. You can use your bonus to bet on the Kentucky Derby, Breeders' Cup, or any other race that you prefer. Bovada also has a rewards program that gives you the opportunity to unlock free bets and additional racebook bonuses. You can join Bovada Racebook today!
BetOnline Racebook
- Up to 7% Track Rebates - $25 Risk-Free Bet!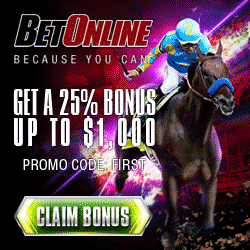 With a seductive black and red layout, BetOnline will feels like a private club opening the VIP section just for you. Dive on in and see way so many racing fans are calling this site the cream of the crop. Boasting lines on all the best tracks in the nation, and giving expert odds and handicaps, BetOnline is where it's at. Gone are the days of plodding through traffic and waiting in line in 100-degree weather. BetOnline allows you to get in on all the racing action you can stomach from the comfort of your own home.
Navigate to the Free Horse Picks section of BetOnline to see all the latest news and odds from leading experts. If you are new to horse racing, these articles will isolate a few horses that have the best odds. Insider information like this is hard to come by, and is one reason BetOnline is where the pros go. BetOnline will never leave you out of the race.
Whether you are new to racebooks or an old pro, any of these sites should satiate your racing thirst. We hope that this article has cleared the legal mist for you, and opened up a world of gambling possibilities. All of these sites have excellent customer service and the best horse betting sites for all the best tracks in the nation.