5Dimes Horse Betting Site Review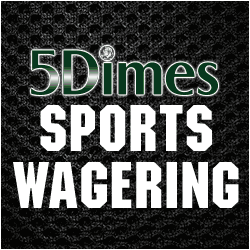 Betting on horseracing has been a great pastime for centuries. With the advent of technology, we can now do it all from home if we choose to. 5Dimes is a world-renowned betting site that offers the most up-to-date odds on races from all around the country. You can join for free and see for yourself, but we suggest reading this page as well in order to get up to speed on how everything works. The online racebook at 5Dimes has been providing betting odds on 30 different tracks across the country for decades with fantastic payouts to their members.
5Dimes is a very big site, with millions of options, wager types, and members. This page will give you a rundown of most of the important stuff that they offer, as well as how to use these services. You will be doing yourself a favor by reading through this entire review so that when you do sign up at 5Dimes, you will be prepared for how everything works.
The Legality Of Using 5Dimes To Wager On Horse Racing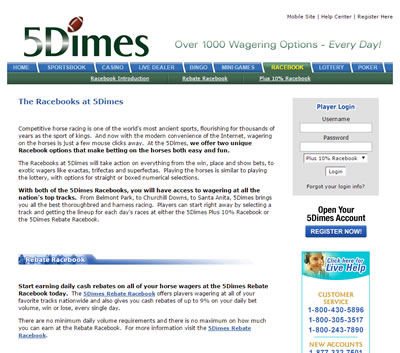 There are a number of federal laws that affect gambling in general across the United States but none of them affects pari-mutuel betting as found in horseracing. In fact, these laws are of specific design to tackle organized crime that may facilitate betting to fund nefarious activities. They do not intend to hamper the average citizen's efforts of placing a bet, as this simple act is legal. For now, federal laws exclude horse betting and folks may visit and wager at a track that is legally regulated by local authorities. In addition, under federal legislation, bettors are able to visit online horse betting sites such as 5Dimes. In fact, some certain rules and regulations that might apply to online racebooks do not apply to 5Dimes for the simple fact that they are located outside of the United States. This provides a plethora of extra wagering opportunities that might otherwise not be available.
State laws tend to have their own regulations in regards to gambling but for the most part, they follow closely to the framework put in place by the federal government. This means that the business of gambling or facilitating bets for profit is still illegal. While each state may have its own unique laws that either further restrict or relax on this, it is a safe bet to always review local regulations before venturing off to place a bet. Forty-one of fifty states have licensed pari-mutuel betting facilities within their borders. Most states have not passed legislation in regards to internet, which keeps betting online legal as 5Dimes accepts users from all 50 states. They are not bound to any local laws due their location outside of any state's rule of law.
Learn More: Is Wagering on Horses Legal?
Safety Measures At 5Dimes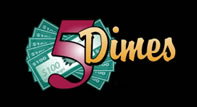 When perusing different online racebooks to determine their quality, a race fan will seek certain factors. These factors include that a racebook operates outside of both federal and state regulations, has a large member base, a record of accomplishment for consistent payouts, 24/7 customer support, simple deposit and withdrawal methods and of course, ample security measures to keep funds safe. When a site happens to meet all of these parameters, horse bettors will know that they have found their online racebook.
5Dimes brings all of these qualities to the table with their streamlined site design based out of Costa Rica, outside of U.S. jurisdiction. Having been in business since the internet itself came into existence, 5Dimes boasts a long list of positive testimonials from their members and a sterling reputation for consistent payouts. The fine folks at 5Dimes provide security measures that ensure quick and safe deposits as well as withdrawals. This paired off with 24/7 customer support allow for the most intense identity protection in the business that means a bettor's bankroll is locked down in an unassailable account. This online sportsbook has all of the same security measures that one would find in their own bank as many bettors feel at ease never having to worry about their funds.
Signing Up at 5Dimes
The signup process at 5Dimes Racebook is available for those wishing to become members at all hours of the day or night and is entirely free. Users will simply visit the home page, click on the 'Register Now!' button and fill out the basic information required. 5Dimes only asks for name, location, email and a password to begin your membership. The process takes less than a minute before they issue you a new 5Dimes user name and account number. You are then redirected to the homepage where you can enter in your new login information and start exploring all of the betting options that 5Dimes offers.
Making A Deposit At 5Dimes
Once users become fully-fledged members of 5Dimes's online horse betting network and have familiarized themselves with the site, they will be able to make a deposit into their new account. By simply clicking on the 'CASHIER' tab at the top of the screen, users will see several convenient options for funding their accounts. Some of these methods can be completed instantly online, while others can be mailed in. It all comes down to your personal preference, but here are some of the most popular deposit options at 5Dimes:
Bitcoin
Bitcoin has become an extremely popular racebook deposit method at 5Dimes. Simply enter the amount in the cashier, obtain the racebook wallet address, and transfer the funds directly from your bitcoin wallet.
Minimum: $25
Maximum: $10,000
Speed: Within 15 minutes
Fees: None
Credit Cards
The online cashier accepts Visa and Mastercard credit cards for instant deposits. Though 5Dimes does not charge fees, your card issuer may have a fee for making an international transaction.
Minimum: $50
Maximum: $500
Speed: Instant
Fees: None
Money Order
You can express mail a money order to the address provided by the online cashier. You will need to first contact customer service to get detailed instructions. The actual deposit will be credited upon 12 hours of receipt.
Minimum: $100
Maximum: $1,000
Speed: Within 4 business days
Fees: None
Person to Person
The options for person to person deposits will vary, but the providers are typically MoneyGram or Western Union. You must visit a physical location to deposit cash for the person to person transfer. Customer service can provide you with recipient information.
Minimum: $100
Maximum: $750
Speed: Up to 6 Hours
Fees: $5 to $30
How to Bet On Horses At 5Dimes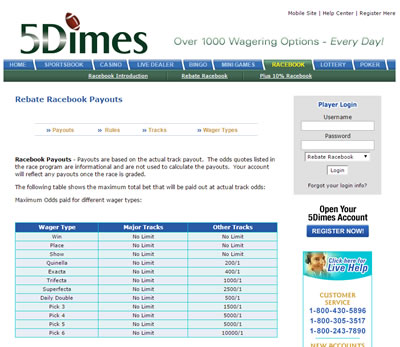 5Dimes Racebook5Dimes offers two forms of their online racebook for their valued members. There is the Rebate Racebook where members can get money back from their losing bets and then there is the Plus 10% Racebook where member earn an extra 10% increase upon every winning bet. Both of them feature all of the classic betting options that one would find at a live racetrack. Through 30 different racetracks across the United States, every race in every day is available to wager on with a clear list of upcoming races and odds.
By selecting the track of your preference, you will be able to see all of the different races to take place in a given day, horse names, jockey names and of course the morning betting odds for a particular entrant. Straight bets such as win, place and show are available as well as exciting exotic bets that can bring large winnings to a lucky bettor. All of the crowd favorites such as Exacta, Trifecta, Quinella and Superfecta are available as well as the ability to box and wheel your picks. The impressive features of the 5dimes racebook bring the grand stands right into your home.
Bonuses For 5Dimes Members
The online racebook at 5Dimes happens to have the most generous rebates and bonuses in the entire online horse betting industry. With two different variations of the racebook to bet from, members are able to either gain a 10% rebate off of all of their losing bets each week or if they feel more confident, are able to play for a 10% bonus on every race that provides them a winning bet. No other online racebook provides a rebate and bonus on the same network. 5Dimes ensures their members that their losses are minimal while winnings are enhanced. From Belmont Park, to Churchill Downs, to Santa Anita, 5Dimes brings you all the best thoroughbred and harness racing at a reduced cost of betting.
Withdrawing Money At 5Dimes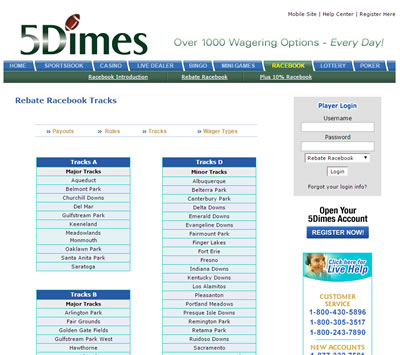 Withdrawing money at 5Dimes is simple enough with any of their secure payout options. You can initiate a payout request by selecting the "Withdrawal" option from your account. 5Dimes has more payout options than the majority of online racebooks and the cashier will automatically display the available options. While subject to change, here are the current withdrawal options at 5Dimes:
Bitcoin
For the fastest payouts at 5Dimes, you can request funds to be sent to your bitcoin wallet. If you deposit exclusively in bitcoin, you can request withdrawals without any banking limits.
Minimum: $20
Maximum: $10,000
Speed: Within 24 hours
Fees: None
Cashier's Check
Before requesting a cashier's check, make sure that your bank will cash checks from foreign banks. If it is your first cashier's check payout request, you will only be able to withdraw a maximum of $3,000.
Minimum: $1,000
Maximum: $7,500
Speed: Within 7 business days
Fees: $40 to $80
Bank Wire Transfer
Bank wire transfers are convenient because funds are sent directly to your bank account. This withdrawal method is only processed Monday thru Thursday from 9am to 1:00pm ET.
Minimum: $1,000
Maximum: $9,500
Speed: 4-6 business days
Fees: $80+
Money Order
Money orders are a US only option at 5Dimes. The online cashier will send your money order via a FedEx courier.
Minimum: $1,000
Maximum: $9,500
Speed: Within 7 business days
Fees: $80
Person-to-Person
Person-to-person offers some of the smallest withdrawal limits but are processed quickly. The online cashier will provide you with a reference number that can be used to pick up the transfer from a retail location.
Minimum: $100
Maximum: $350
Speed: Within 72 hours
Fees: $10 to $38
If you made a credit card deposit, make sure that you have verified your account on the site before attempting to request payout. The following information will be needed:
Government-issued picture ID that has been valid for at least 6 more months
Utility bill (no more than 90 days old) with a matching address to the one registered on file
Scanned copy of the front side of the card used to deposit
Authorization form
5Dimes's Award Winning Customer Service
As one of the best US horse betting sites, 5Dimes happens to have the finest customer assistance team in the online betting industry. With 24-hour support, 7 days a week, members are able to speak directly to a 5Dimes staff member over the phone or even their dynamic live chat service. Whether it is a question on navigating the site, placing a bet, making a deposit or requesting a payout, 5Dimes has a sterling reputation of providing the utmost in service to their valued members. The Frequently Asked Questions section can address most issues or problems without even contacting the team. 5Dimes Racebook has truly shown a commitment to making their site user-friendly
Whether American bettors are looking to place a conservative wager on a horse to simply 'show' in a race or looking to find fame and fortune through an exotic Superfecta, 5Dimes offers the most favorable odds in the equestrian betting community. With the tightest security for your funds, top betting lines and courteous staff, betting the ponies from the comfort of your own home has never been easier than at 5Dimes.