Best Sites for Horse Betting
Known as "The Sport of Kings", horseracing is a popular American pastime and rooted in our culture with events like the Kentucky Derby captivating our nation's imagination. As the one sporting event that remains unaffected by federal gambling laws, it is the one instance where bettors may get into all the action they want through a variety of mediums. Horse bettors now have the option to bet the ponies online, taking advantage of what the best sites for horse betting have to offer.
Whether you are picking a horse to win, place or show, or seeking victory in a hard to hit Superfecta bet, you may rest assured that you can place either small or large stakes on a variety of races all from the comfort of your own home. BestHorseBettingSites' mission is to inform our readers of where the best horse betting sites on the internet are and anything they might need to know about using them with emphasis on racebooks that are safe to use. Without delay, let us introduce the best online racebooks and then we'll go over some of the features that users will encounter when using
2021 Kentucky Derby Betting Odds
The online sportsbooks we have highlighted on this page are the best horse betting sites for the 2021 Kentucky Derby. These sites are the best way to partake in parimutuel betting. A major draw with online horse race betting is the ability to check multiple sportsbooks and shop the lines. This is a practice where you look for the best odds from multiple sources. You may even be able to hedge your bets depending on the betting odds. With the Kentucky Derby being one of the Triple Crown events, you will not struggle to find the 2021 Kentucky Derby betting odds like that below.
1. Known Agenda +750
2. Like The King +6000
3. Brooklyn Strong +5500
4. Keepmeinmind +5500
5. Sainthood +4500
6. O Besos +2800
7. Mandaloun +2200
8. Medina Spirit +1400
9. Hot Rod Charlie +800
10. Midnight Bourbon +2200
11. Dynamic One +3500
12. Helium +5000
13. Hidden Stash +5000
14. Essential Quality+275
15. Rock Your World+475
16. King Fury +4000
17. Highly Motivated +1200
18. Super Stock +2500
19. Soup And Sandwich +2500
20. Bourbonic +4000
Bovada Racebook
- 50% Bitcoin Welcome Bonus up to $500!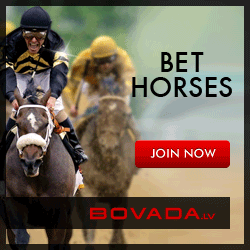 Bovada's online racebook remains one of our favorite horse betting sites with absolutely stunning betting options that update moment by moment. The bet slips featured here are the best and feature everything that one would find at a live track. Traditional Win/Place/Show bets are available as well as exciting exotic wagers that could reap thousands of dollars in winnings. As one of the best sites for horse betting, you will never get bored at Bovada!
Bovada has over 80 different horse tracks with multiple races every day, all across the world. With race conditions, track details, horse and jockey names, bettors will see the fractional odds of each pick and what they may stand to win off their wagers. You can redeem huge bonuses to increase your wagering opportunities. With the Bitcoin Welcome Bonus, you can get a 50% match on your first-ever bitcoin deposit. The online racebook will award you with up to $500 when you use code BVSBITCOIN50. Sign up today to start betting on the Triple Crown, Dubai World Cup, and other exciting horse races!
BetOnline Racebook
- Up to 7% Track Rebates - $25 Risk-Free Bet!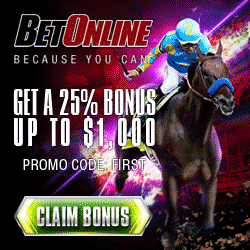 This is another top destination for equestrian fans looking to pick up serious winnings off the tracks. BetOnline Racebook has been in the game for decades boasting a long list of positive reviews and satisfied customers. After years of providing the latest betting odds on the Kentucky Derby and other top races, BetOnline has become one of the best sites for horse betting. With dynamic betting odds on a swath of different races, bettors are able to bet on races and see if they've won within minutes.
This online racebook is also unique in its mobile betting features as the only betting site that provides the option. This platform allows users to take their bets on the go no matter where they are. In fact, members could very well place bets through BetOnline while standing in the very grandstands of the race that they are wagering. This horse-betting site also features the most generous rebate program on the web where bettors are able to snag 7% of all of their bets, win or lose, back from the site every week. This leaves plenty of room for race fans to pony up more cash for chances to win big.
SportsBetting Racebook
- $25 Horse Free Play - All internet wagers earn a 7% rebate!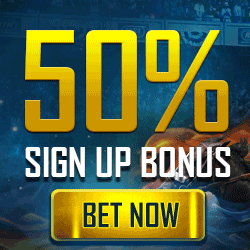 SportsBetting is a world-renowned wagering site that has an incredible racebook for fans of the horses, the dogs, or any type of pari-mutuel event. The site is especially good if you are new to betting on the races, as it has a gigantic help section that will teach you all about track limits, payoff odds, rules, terms, and wager types. Joining this site will be worth its weight in gold because you will receive the fastest lines on everything from the Breeder's Cup to the Kentucky Derby.
SportsBetting has many surprises in store for you, and the $25 horse free play is one of the best. This promotion will reward you for simply trying out the racebook. If your first bet loses, they will hand over $25 to use on your next wager. Just make sure you are planning on placing some bets soon, because there is a 6x rollover requirement, meaning you will have to wager the bet amount plus the bonus amount six times before the free cash becomes available. Create your SportsBetting account and become a member of one of the best sites for horse betting today!
Top Racebook Features
Horse Betting Bonuses
There are plenty of promotions and bonuses to be found on any great online racebook. For instance, many sites offer track rebates, usually around 7%. Most of these apply to both web and telephone bets, and there is generally no limit to how much you can receive back, nor any minimum amount of wagers that must be placed. Sites also tend to offer a risk-free bet in the form of a rebate, usually around $25-$50. With this bonus, the site will pay you if your first bet loses. This is an excellent promotion to take advantage of if you are new to horse racing, or simply want to see how the betting works without risking much of your bankroll. These are only two of the great bonuses you will find, and plenty more will be available at every site that offers race betting.
Depositing Into Online Racebooks
Getting money into your account so you can place wagers on the races is probably the most important part of using an online racebook. Luckily, most sites offer numerous options that are fast and safe. These include credit/debit cards, cash wire transfers, Bitcoin, money orders, bank wires, and more. No one should ever have a problem making a deposit. The easiest and fastest method is to use your credit/debit card. Most sites accept most major providers, such as Visa and MasterCard. Just head to the online cashier and choose your preferred method. The site will walk you through the steps to make a deposit.
Horse Betting Site Payouts
Collecting your winnings is just as simple as depositing money. You will head to the online cashier, choose your method, and the site will walk you through it. The one major difference you will notice if you are American is that the site will not offer credit/debit payouts. This is because of a federal law called the UIGEA, which restricts US financial institutions from accepting funds from overseas wagering sites. This is not a problem though, because there are plenty of alternative methods to choose from such as checks, cash wire transfers, Bitcoin, bank wires, gift cards, and more.
Wager Types And Races To Bet On
The great thing about how powerful the internet is, is that horse betting sites can offer the same wager types you would find at the tracks, and then some. You will find straight wagers on who will win, place, or show, as well as exotic wagers like exactas, Quinellas, and trifectas. You can get as in depth with your card online as you can at a real race track, and the ease-of-use of these sites makes everything simpler to accomplish.
When it comes to races to bet on, you will be mightily impressed. These sites will offer tickets on everything from the races in Philadelphia Park, to the Kentucky Derby. Get you names and states down before the race so you can get in on it early. Check out the open races at Delta Downs, Woodbine Harness, or Pompano Park, and get ready to have some fun.
Mobile Horse Betting
You no longer have to be confined to your computer to bet on the races online. Each racebook that we review also has a convenient mobile feature that will deliver all of the events to your iPhone, Tablet, iPad, Android, Smartphone, or almost any other device that is semi-current. These great features allow you to access your account from the palm of your hand, and there is no extra charge or additional download. All you have to do is already be a member of the site, and log in from your phone.
Are Horse Betting Sites Legal?
While there are quite a few federal laws in place across the country that has drasticly affects legal sports betting and gambling in general, horse betting is excluded from all of them. This is due to the simple cultural ties that the sport holds in our nation's collective conscience. Lawmakers have never bothered to try to outlaw wagering on something as grandiose as the Kentucky Derby nor have they gone after smaller tracks where families enjoy betting the ponies. Not even internet gambling is criminalized when it comes to the excitement of horseracing.
Equestrians in America who like to size up the competition on the track and make a bet do not have to fear any legal troubles when perusing horse-betting sites. They are indeed, legally able to wager to their heart's content on the track, horse or jockey of their choosing. In fact, there are a number of sites available to U.S. horse racing fans and they make sure to abide by any federal online gambling laws. They cut right through any potential red tape simply by being located outside of the country. Right out of the gate, bettors may feel at ease that they can collect upon their winnings using these trusted sites.
Learn More: Is Online Horse Betting Legal for US Residents?