Bovada Horse Betting Site Review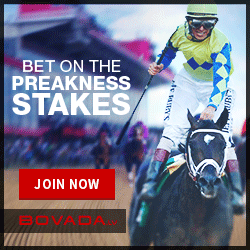 Betting the ponies has been a worldwide pastime for centuries. From Roman chariot races to horse shows for English royalty, horseracing has been dubbed the "sport of kings" for a reason. Many fans might be wondering where to get in on some legal online action for real money. Never fear, Bovada Is here to quench your racebook thirst with excellent online betting options. Bovada has been operating out of Quebec, Canada for over two decades, serving up the best legal horseracing in the business. If you have ever wondered about wagering on the races online, there is no better site out there right now. After over 20 years of service, Bovada has an illustrious reputation to back it up.
This page will cover all the essentials to get you prepared to use Bovada's racebook to the fullest. There has never been a better time to bet online, and now you can at the greatest ranked U.S. wagering site in the world. You will learn how to wager, the legal intricacies of wagering online in America, how to make deposits and request payouts, and much more. Read on, and prepare yourself to make some money on the horses.
The Legality Of Using Bovada To Wager On Horse Racing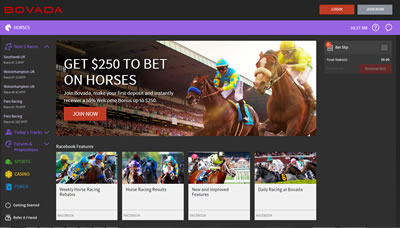 The federal laws surrounding horseracing are rather lenient. Gambling in general lies in a murky state of legality, but horseracing is exempt from many of the federal restrictions. The Unlawful Internet Gambling Enforcement Act (UIGEA) of 2006 was brought about to quell illegal online gambling activities in the states. This law effectively banished online gambling establishments from functioning in most of the US. What this means is that players will not find an online gambling venue near their house. The great news is that Bovada, and similar sites, operate overseas, out of the reach of federal jurisdiction, where it is legal to own online betting establishments. Betting on horses is legal in America, whether online or on land, but online betting venues are illegal on US soil. What this means is that you can bet legally at sites like Bovada because they are located overseas, and millions of Americans do every day.
The law considers horseracing "pari-mutuel" betting, which the UIGEA defines as legal. They leave it to individual states to decide whether to allow pari-mutuel betting or not, and most states do. Bovada is legal to access from 46 US states, and if you are in any of these states, you are within your rights to play the races to your heart's desire. Unfortunately, Delaware, Maryland, New Jersey, and Nevada residents will not be able to join Bovada, and will need to find other betting sites to play at. A simple search around this site will point you to great sites that accept players from all 50 states.
Learn More: Is It Legal to Bet on Horses?
Safety Measures At Bovada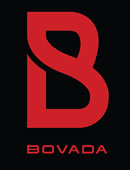 Bovada uses the most up-to-date security software and SSL protocols to ensure that members' information is 100% secure. Licensed by the Kahnawake Gaming Commission and receiving accolades from top US media outlets, Bovada has a reputation of safety that goes back two decades. Putting your money into a Bovada account is as safe as doing so with sites like PayPal or Netflix. Read any of the numerous player testimonials or reviews scattered about the web to see why Bovada holds such high esteem. You can trust that your money and personal information will be in a virtual Fort Knox at Bovada's online racebook.
Signing up at Bovada is simple and quick. Just click on "Join Now" and fill out some simple contact information. They will send you an email with a confirmation link, once you click on that you will be a full-fledged member. We suggest exploring the racebook as a member to see what all is on offer, such as the types of wagers or which races are coming up. In no time, you will be itching to make your first deposit so you can get in on some real money action. Making a deposit is easy as pie, as you will see in the next section.
Making A Deposit At Bovada
Bovada offers two safe and secure deposit methods. The most popular way to deposit is straight from a credit/debit card. Just visit the online cashier and enter your card information along with the amount you would like to deposit, and your account will be credited immediately. There is a $20 minimum on cards, and the site accepts Visa, Mastercard, and American Express. The maximum is $1,500. There is a 5.9% fee for Visa cards and Mastercard, while the fee for AMEX is 9.9%. Your bank/card issuers may also charge a cash advance fee, international service fee, or a currency conversion fee.
Bovada also accepts bitcoin and bitcoin cash for deposits. Once you visit the online cashier and submit the amount of your deposit, you will receive the BTC wallet address to send it to. Transfer the bitcoin from your wallet and your deposit is complete. There is a $10 minimum for bitcoin deposits and a $5,000 maximum. Bitcoin is the most trusted and reliable cryptocurrency in the market.
How to Bet On Horses At Bovada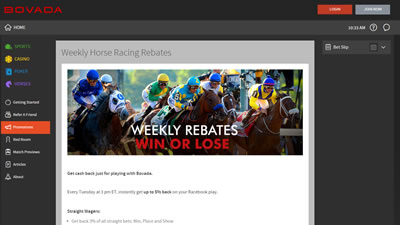 There are two categories when it comes to horse betting. Straight up bets are the simplest way to wager. You will simply bet on who will win, place, or show. A win means you are betting on the horse that will finish first place. A Place bet is betting on who will finish in first or second, and a Show is wagering on who will come in first, second, or third. Therefore, a Show is the most conservative straight up bet, and a Win has the narrowest odds.
Once you have made a few straight bets, you might want to jump in to the world of Exotic bets. These are more complicated, but can be infinitely more profitable. Exotic wagers consist of Quinellas, Exactas, Trifectas, and many more complex-sounding wager types. They aren't as complicated as they sound, but you will want to read up on each type before putting money down. With Exotic bets, you will be wagering on which horses will win in a certain order. An Exacta, for instance, requires you to select the first two finishers in their exact order, and a Trifecta requires selecting the first three. These are just the tip of the iceberg, and as you explore the Exotic wager types, you will come across Boxes, Wheels, and even more ways to bet. All of these are essentially variations on Exactas, Trifectas, and so forth. You will become accustomed to the wide array of wager types the more you play the horses. Check out Bovada's thorough Help section to learn every facet of the Racebook.
Bonuses For Bovada Members
One of the great things about playing the horses online is you get some great rewards that are unique to internet-based gaming. With Bovada Rewards, you will be eligible to earn points based on the wagers that you place. For every $1 spent on a straight wager you get 40 points, and for every $1 on an exotic bet you receive 60 points. As you accumulate points, you will be able to redeem cash back rewards and extra bonuses.
Bovada also offers a Bitcoin Welcome Bonus for crypto users. When you use bonus code BVSBITCOIN50, the online cashier will match your deposit by 50% for up to $500. Your extra cash can be used for all types of horse bets, whether you want to bet on the Kentucky Derby, Preakness, Belmont, or any other race. You can also redeem an optional casino bonus at the same time using code BVCBITCOIN150.
The 50% Welcome Bonus is also an excellent option for new players. You can redeem the bonus when you make your first deposit (credit card or bitcoin) and the cashier will match the amount by up to $250. The bonus has a very low 5-time rollover, one of the lowest in the industry.
Withdrawing Money At Bovada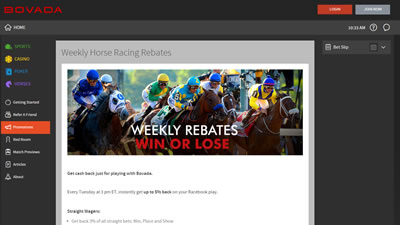 A close second to the excitement of betting on the races, is collecting your winnings. Bovada offers a few ways to collect your hard-earned dough, all accessible from the online cashier. The most popular way to payout is via check in the mail. The minimum check withdrawal is $100 while the maximum is $3,000/ Checks typically arrive within a week, and you can deposit them at your local bank. Bovada offers one free check payout per month, which most members find more than sufficient. There is a $100 fee if you need to withdraw more than once a month.
The fastest payouts at Bovada Racebook are with bitcoin. You can request as little as $10 and as much as $9,500. Simply provide the online cashier with the wallet address that you would like your funds sent to. After your request is approved, your bitcoin will reach your wallet within 15 minutes. You can request a bitcoin withdrawal once every 3 days, and there are no withdrawal fees.
No matter how you decide to collect your winnings, Bovada will get you your money quick. They boast the highest payout speeds in the business, and this is one of the reasons players go back to Bovada.
Other Features You Will Find At Bovada
Although there is not a mobile Racebook as of yet at Bovada, you can access race futures via the Mobile Sportsbook. This will have you betting on your favorite upcoming races from the palm of your hand. Just sign in to Bovada's mobile site, and you will have access to these features.
The new and improved Racebook offers an enhanced bet slip that is intuitive and easy for beginners. The Race Coupon features the name of the Jockey, morning odds, and gate number, and allows you to move between bet types easily with a bet slider. You can view multiple races at once by switching between Pick Card and Classic view, making playing the races even more exciting. Check out Bovada's Racebook now to see just how amazing this site is.
Bovada's Award Winning Customer Service
There are a few ways to contact Bovada. Their toll-free number is available 24/7, and will connect you to a native, English-speaking professional. Bovada has garnered acclaim for their excellent customer service. You can also get in touch via the online contact form in which you can ask a specific question and expect an answer within a few hours. If you have a question or concern, you will always be able to reach a customer service professional at Bovada.
We hope that you will head right over to Bovada Racebook to check it out. They are really the best in the business right now, and there isn't a single contender in the same league. Join Bovada now to get in on one of the best sites for horse betting on the web.